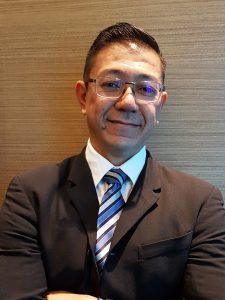 K. THEIVAENDRAN
LL.B (Hon.), London
Email: theivaendran@desho.com.my
Qualifications
Theivaendran obtained his Certificate of Legal Practice and was called to the Malaysian Bar on January 10, 2002.
He read in chambers under Messrs Iza Ng Yeoh & Kit and commenced his practice under the same firm, where he handled all manner of general civil and corporate litigation, including corporate receivership, banking and foreclosure proceedings, bankruptcies and windings up, employment matters, debt recovery and family proceedings.
He then joined Messrs Rajpal Firah & Vishnu as a junior partner in February 2006 and expanded his practice into criminal litigation cases. Theivaendran gained invaluable experience as a criminal litigator, successfully conducting many capital punishment trials including drug trafficking and murder, as well as immigration and general criminal matters.
Thereafter, he set up Messrs Theivaendran & Associates in 2011 and he continued to handle and advise corporate and individual clients on any areas of concern but mainly specialized in criminal law practice. Theivaendran conducted various criminal trials, involving criminal breaches of trust, trials under the Anti-Money Laundering Act, SOSMA and POCA cases, immigration offences and other areas of criminal law. Theivaendran's experience in handling AMLA and CBT offences as well as experience in dealing with the Royal Malaysian Police, the MACC and various government agencies ensure that he is an asset in advising his individual and corporate clients in ensuring preventive safeguards in the day-to-day running of their businesses.
He joined Messrs Desmond Ho & Associates as a Senior Partner on December 1, 2019.
Achievements & Service
Theivaendran has handled a number of serious crime cases with success at all levels of Court. Known within the circles of criminal law practitioners in Klang Valley, he is steadfast in defending his client's rights and uncompromising in integrity.
Areas of Practice
Banking, Finance & Insolvency Litigation
Corporate & Commercial Litigation
Project Developments & Corporate Advisory
Industrial Relations & Employment Law
Intellectual Property & Trademarks
Criminal Litigation
Anti-Money Laundering & Criminal Breach of Trust
Immigration Law